Hot or Not - Find someone right now
Of course you're beautiful!
Narcissism is becoming quite popular these days with the advent of social media. "Selfie" has become a well-known word and Facebook is probably the largest depository of self-taken mug shots on Earth (if we discount any other CIA database).
Why do people post selfies? Most likely they need to prove that they were really standing in their own bathroom. If we take a good look at it, why would Facebook users "like" that you are in the bathroom? Because they cannot "dislike" it. It preserves the lavatory's immaculate image and boosts self-esteem. But if you really want to know if your toilet door looks posh or if your mirror is truly crystal clear, then you should install Hot or Not!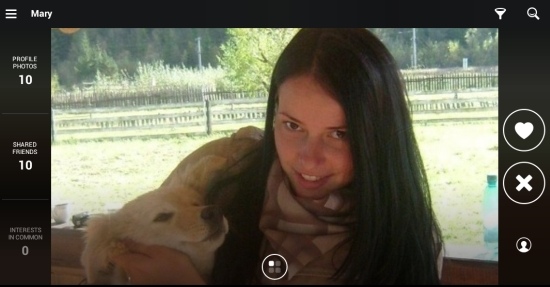 An Old Flame
Hot or Not is at its core a means to find out how "hot" random people find you. But things have changed in the past dozen years. Matchmaking is now also part of the mission. Besides pictures, users can create profiles similar to the ones in Badoo (we'll get to that in a second). You find someone hot, that someone finds you hot also, then you get to chat and see if the image holds up. Put the personality and manners to the test also.
Besides a constant stream of profiles to mark as hot or not, you can also search for specific names and rate the profiles that come up in the search results.
Of course you can set-up filters for gender and age preference but that's basically all there is to Hot or Not.
Features
Hot or Not – The name of the main feature. You get to put people in the "hot" and "not" bags until your finger bleeds.
Connections – A contact list of people you have connected to. A regular chat feature.
Be warned though. Hot or Not is basically linked to Badoo. Your account also exists there and if you "hot" somebody here, that translates into wanting to meet him or her on Badoo. While that may be the case, it still good to know what's happening behind the curtain.
Pros
A good way to confirm your narcissistic condition and stave off the fear of social unacceptance.
Clear and functional interface.
Cons
The semi-random algorithm insists on presenting people outside of your living area.
The Badoo connection is unavoidable.
It keeps running and consumes battery power even after exiting.
Conclusion
Hot or Not is simple and straightforward. Although it's kind of a platform to introduce you to Badoo, you can simply ignore the e-mails and keep it simple. :)
---
Add a review
Tell us your experience with
Hot or Not - Find someone right now
RELATED PROGRAMS
Our Recommendations
---
---
---
---